BBC News
Tuesday, 11 July 2017
The hashtag #18Tir is being widely used by Iranian social media users to mark the anniversary of the Iran Student Protests of July 1999.
On 9 July that year police and right-wing vigilantes stormed a Tehran University dormitory which students were occupying to protest against the banning of the pro-reform Salam newspaper.
Riots followed in Tehran and Tabiz, and students were beaten and detained by police and hardliners. At least five students were reportedly killed.
Although Ayatollah Khamenei condemned the raid, the main perpetrators went unpunished.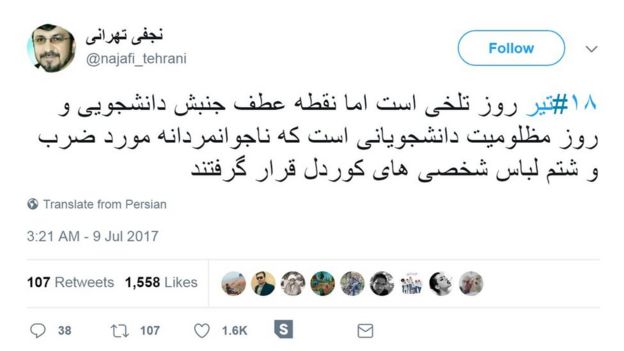 Pro-reform cleric Abolfazl Najafi-Tehrani tweeted: "18 Tir [9 July] is a bitter day. But it's the turning point of the students' movement and the day when students were unfairly beaten up by unfeeling shall plainclothesmen."
The hashtag has been used nearly 9,000 times in the past two days, peaking around Sunday afternoon.
How the BBC reported the protests in 1999:
Twitter is officially blocked in Iran but people use Virtual Private Networks to bypass the filtering.
In 2009, protests against the re-election of Mahmoud Ahmadinejad saw social media in Iran used as a platform of organisation.
Despite warning from the authorities many people still use Twitter. Ironically, Iranian officials, including the Supreme Leader, the president, and ministers are active on it.
You might like:

Many tweets mentioned Saeed Zeinali, a student who was arrested at his house during the unrest and is still missing 18 years later.
"18 years of waiting is hard," tweeted London-based activist Mostafa Mohamadi.
By the UGC and Social News team; Additional reporting by BBC Monitoring